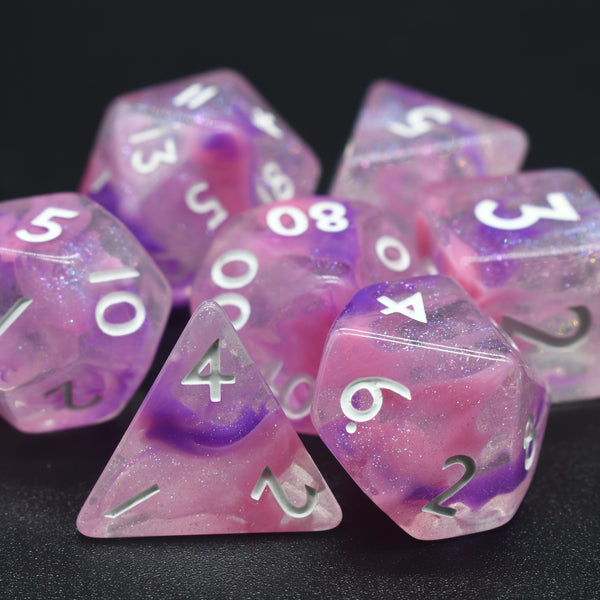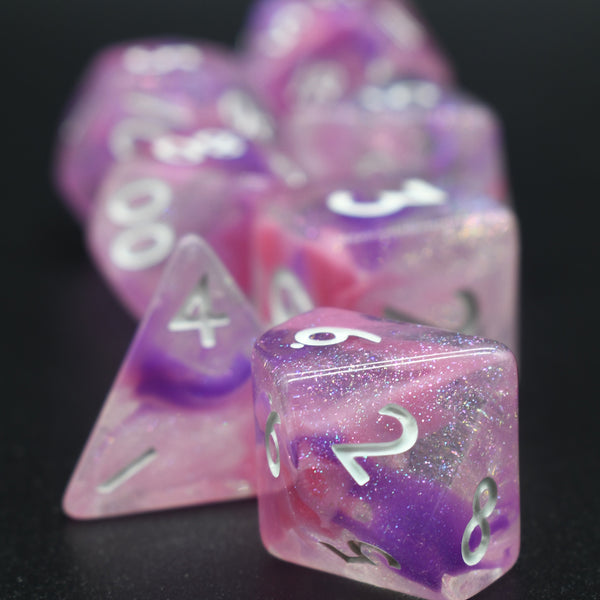 Traversing the rainbow bridge the crusaders were stopped as Dante fell to his knees. The bard Arabella looked upon her companions in confusion. Something invisible had stuck him, he called out. Arabella brought her pipe to lips and began to blow. A soft mellody filled their ears as a thousand sparkling purple lights filled the space around them, sticking to the invisible assailant.
---
The Details
Brothers and sisters in arms, the Rainbow Crusaders are the guardians of the Rainbow Bridge, the gateway between worlds. Their power chaotic and beautiful.
Wisps of pink and purple encased in a transparent resin, shimmering pink and blue, these dice are completed by white ink.
As part of the R.E.D. Authentic's range, this collection was designed by the R.E.D team, using our mould featuring our dragon head on the D20 (representing the 20).
This polyhedral dice set is an 16mm seven piece dice set for dice games such as D&D and Pathfinder.
Each set contains 1 of the following:
D4
D6
D8
D10(0-9)
D10(00-90)
D12
D20
We're very happy to present our first (of many) R.E.D Authentics collections, the Rainbow Crusaders. Join us on the rainbow bridge as we transverse worlds!